Sappience digital
angel@sappience.digital
Type: SaaS Offering
TRL: 9

Asset Insider bolsters you in managing the asset lifecycle with its Digital Twin and Low-Code capabilities. Address the three main challenges of Asset Management - cost, risk, and performance, and reimagine how your business performs.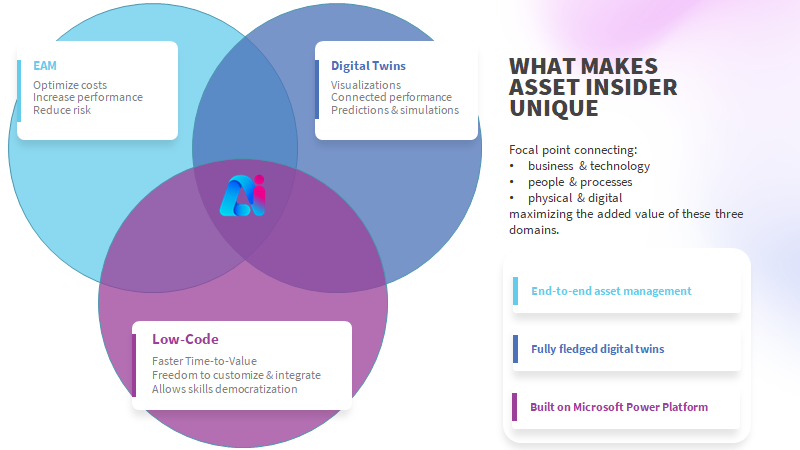 WHAT IS ASSET INSIDER
From basic practices to 360° Asset Lifecycle Management Asset Insider is a Low-Code application based on the Microsoft Power Platform for asset-intensive organizations with managing physical assets throughout the entire lifecycle - from demand to disposal. The solution brings Enterprise Asset Management, the Low-Code technology, and the Digital Twins together, in the hands of its users, to help them achieve the target performance, efficiency, and lifecycle duration for their assets.
BACKED BY THE MICROSOFT POWER PLATFORM
One solution to take control over their lifecycleAsset Insider can adapt to the most complex business scenarios and integrate with key systems with its inherited Low-Code agility and the freedom to be rapidly customized by the customer. As a Power Platform-based solution, the app brings up to 6 times faster deployment, more than 600 pre-defined integrations, and enterprise-level security and digital infrastructure.
OUTSTANDING FUNCTIONALITIES
Take control over every stage of your asset lifecycle With a wide range of functionalities, Asset Insider brings you complete control and deep insights into every aspect of the asset lifecycle. A small part of them is:
Demand stage
Portfolio budgeting
Lifecycle Planning
Targets and Goals
Requests
Supply stage
Request based fulfilment
Purchase Orders
Spare parts & consumables procurement
Budget vs. Actual
Commission stage
Quick Move & Assignment
Transfer Orders
Acceptance protocols & e-Signatures
Embedded 3D Models
Operations stage
Asset Tracking
Preventive & Predictive Maintenance (CMMS)
Spare Parts & Consumables Forecasting
Performance Monitoring
Warranty & Service Management
Disposal stage
Disposal Management
Replacement Planning
All stages
Unlimited Asset Categories & Grouping
Customizable Parameters
Asset Timeline
Customizable Views & Charts
SIMPLE IMPLEMENTATION
Guaranteed success of any project, in any industry, of any scale. "Onboard" is a Time-to-Value approach, the official implementation methodology of Sappience for successful customer project delivery.
Proof of Value (PoV)
With a free test drive experience, defining a set of Objectives & Key Results (OKRs), and a trial period for Asset Insider the client can explore the solution in-depth and objectify the scope of the project.
Customer Onboarding
Sappience provides expert guidance through each stage of the implementation & onboarding cycle - functionality design, execution, and customer onboarding.
Customer Support
Sappience has a dedicated support team making sure each customer gets the most value from Asset Insider's upgrades and future versions.
PRICING
Flexible subscription plans Save resources, get incomparable time-to-value, and achieve 6 times faster deployment with the help of our product team. Get Asset Insider on a monthly subscription base or request a custom proposal for your specific requirements.
IPR/License
Intellectual Property is owned by Sappience Ltd. The product license subscription provides the right to customers to use the software during the subscription period.
Contact Point
christiang@sappience.digital angel@sappience.digital
Information
Use
List of links to use the item:
Extend