Mobile Middleware Research Group
Armir Bujari
Type: software-docker
TRL: 6

In the Industrial IoT (IioT) context, in particular in production manufacturing plants, cloud/edge computing is starting to be considered a relevant opportunity that can significantly contribute to blur the current separation of OT&IT domains through the design of edge nodes where compute/storage/networking functionalities could converge. In principle, several hierarchical layers of edge nodes, with different capabilities, can be deployed, distributing the resources along to support the execution of industrial applications and their data storage, thus giving rise to a more fluid model identified as Cloud-to-Thing Continuum (C2TC).
This capability, opens the door to new services and opportunities including on-site or on-device predictive maintenance, continuous monitoring, scheduling and remote running of maintenance interventions, process reconfiguration, etc., all this while achieving the desired KPIs – process– and product-wise. All these functionalities could be evaluated and made possible by (distributed) Digital Twin implementation which can be hierarchically organized and comprise:
IoT twins featuring lightweight models of specific components and performing big-data processing and local control for quality management operations (low latency and high reliability);

Edge twins, deployed at plant gateways and/or at emerging ETSI Multi-access Edge Computing (MEC) nodes, providing higher level control knobs and orchestrating Internet of Things (IoT) sensors and actuators in a production locality, thus fostering local optimizations and interoperability;

Cloud twins performing time-consuming and typically off-line parallel simulation and deep-learning, feeding the edge twin with pre-elaborated predictive models to be efficiently executed at the premises of production plants for monitoring/control/tuning purposes.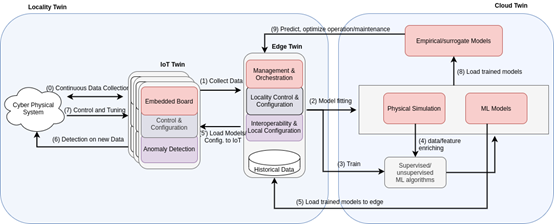 Figure 1: Management & Control Elements in distributed digital twin deployment scenario
It is clear however, that just introducing support for the execution of industrial control applications at edge nodes (e.g., through containerization and distributed orchestration) is not sufficient. A seamless integration of all the levels of the infrastructure (both cloud and edge) and a novel management approach that orchestrates all its virtualized resources to ensure the needed Quality of Service (QoS) are crucial for C2TC Digital Twins in the industrial reality. Such a goal is complex and requires an holistic and integrated approach. Figure 1 exemplifies some of the above mentioned components along with the information flow among them.
IPR / Licence
Different C2TC open source solutions exist which can be tailored and made fit for purpose. Some examples include the EdgeXFoundry [1] software stack from the Linux foundation, StartlingX from the Openstack community [2] etc.
Contact Person
Information
Mobile Middleware Group Research Group website: https://www.middleware.unibo.it/