BOC Group
Robert Woitsch
Type: Software Package
TRL: 4

A Marketplace is a platform that offers a variety of exploitation and innovation items, such as digital services and products, relevant for a specific purpose, for instance Digital Twin experiments.
A Marketplace model enables the introduction of smart behaviours like search features or recommendations for particular user profiles.
We differentiate between two approaches for using marketplaces:
Search for offerings in the online platform, and

Assess, innovate and select offerings in expert tools.
The first approach is basically about browsing and searching for digital twin solutions at the landing page of the marketplace. By utilising the features of the marketplace landing page, such as filtering and tagging, existing offerings matching with basic requirements can be extracted.
The second approach goes into further detail. It focuses on the design, the assessment and the selection of digital twin solutions that are built in within consulting tools. The chosen expert tools might serve as a foundation for building up a specific digital twin tailored to your specific requirements.
Knowledge to browse, search, discover and retrieve offerings from the marketplace can be expressed with the marketplace model, hence it can be extended to be used in consulting services, assessment workshops or innovation laboratories.
The marketplace model represents the marketplace in form of a conceptual knowledge.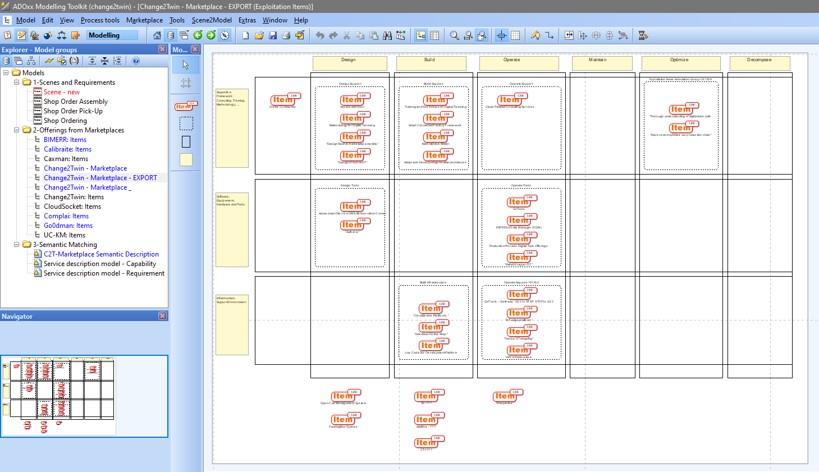 IPR / Licence
The open-source offering is based on the metamodeling platform ADOxx (https://www.adoxx.org/live/home), which is for free available for academic and research purposes. The Change2Twin Marketplace serves as a sample for showing the benefits of a marketplace model.
Contact Person
Information
Extend
Marketplace Modelling Tool Prototype: https://adoxx.org/live/web/change2twin/downloads