TNO
Joke Bruining
Type: Consultancy / Online Tool / Software Tool
TRL: 8

The compass tool is a tool for assessing what digital twins can do for you. At the end of the assessment a summary is generated that provides an overview of the ambitions, key driving KPIs, current digitalization level, intended digital transitions, possibilities for Digital Twins and the needed digitalization level to make these twins happen.The tool can be filled out online with the help of an advisor.The output of the assessment will look like the following image: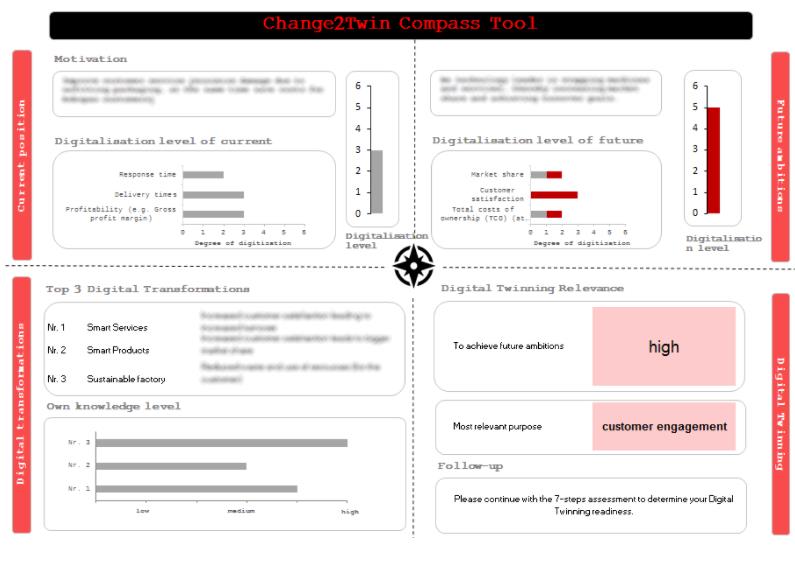 The Compass tool is the first of the Change2Twin assessments. It has a focus on the business needs and digital transformations for smart industry in general. The outcome of this assessment will highlight which type of Digital Twin is useful for a company. The second assessment focuses on what is needed to implement the digital twin given the current state of digitalisation. After doing both assessments the output can be used as search filters in the Change2Twin marketplace to find suitable solution providers.t will look like the following image: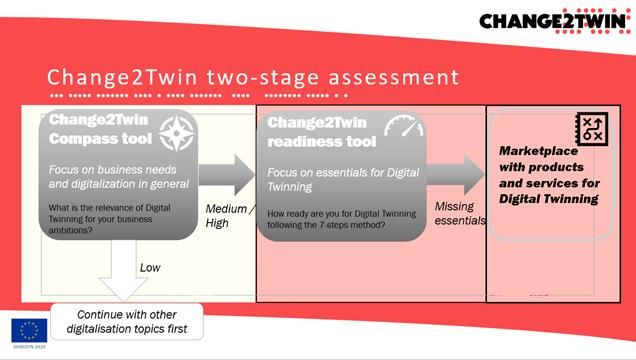 IPR / Licence
After a half-hour intake interview, in which the goal of the assessments are explained and your needs are identified, it is determined how you can best be supported in completing the tools (whether by an expert from TNO  or from a DIH). The intake interview is free of charge. Guided workshops can be ordered at a fixed rate of 2500 euros per assessment.
Contact Person
Information
Use
Online tool: https://change2twin.sensorlab.tno.nl/compass/